Feels // #LoveOzYABloggers
As a proud Australian, I'm a massive supporter of local young adult authors and am embarrassed to say I don't read enough of their work. That's why I love the #LoveOzYA movement: it's advocating for and advertising Aussie YA literature to readers here in Australia and around the world. They've created the meme #LoveOzYABloggers to fuel the conversation by providing themed prompts that bloggers or anyone on social media can respond to.
This fortnight's theme is "Feels".

- - -
You can't talk about feels in Aussie YA without mentioning this quintessential Aussie dystopia by John Marsden. Commencing with
Tomorrow, When The War Began
, the series follows Ellie and her friends' fight for survival when their (fictional) hometown of Wirrawee is invaded by a foreign military. With both movie and TV adaptations (anyone else waiting for the second season?), this hugely popular series is just FULL of feels. War and death go hand in hand and John Marsden does not shy away from killing or injuring all of our favourite characters. No spoilers, but one particular death in the third novel,
The Third Day, The Frost
, was especially devastating so don't be surprised if, like me, you find tears streaming down your face as you read.
- - -
One of my all time favourite middle-grade series is
Ranger's Apprentice
by John Flanagan. I'm fortunate enough to own personalised signed copies of the first three books, and while I'm a huge fan of the entire series, it's these first three stories that hold a special place in my heart. I must have read each of them at least ten times and the third one,
The Icebound Land
, always makes me a bit emotional. In this instalment, our titular character, Will, has been captured by the fierce viking-like Skandians and is sold into slavery. In these cold, harsh northern lands, warmth is a luxury and many slaves turn to the drug warmweed for comfort. Will's battle with addiction as he gradually loses himself and his will to live is one of the darkest storylines I've ever come across in a middle grade novel and never fails to tug at my heartstrings.
- - -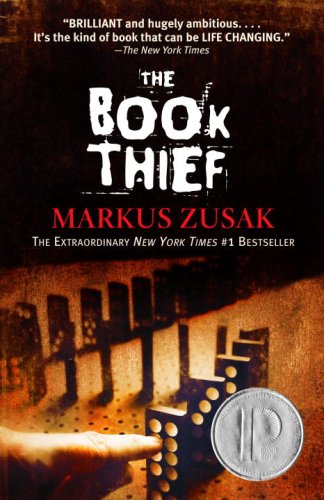 To date, perhaps the most successful Aussie YA novel internationally is
The Book Thief
, written by Markus Zusak. First published in 2006, the award-winning novel was adapted into an equally successful feature film in 2013. Set in Nazi Germany in the lead up to World War II, the story follows a young girl named Liesel. As is the tendency in historical fiction novels set during times of war, death is a major theme. Unique to this book though, death is personified and actually narrates the story. It is through this distinctive point of view that we witness both the horrors and joys that touch Liesel and the other characters' lives. Liesel's pure innocence and the variety of events that befall her will leave you smiling one minute and crying the next.
- - -
Have you read any of these books? Did they give you all the feels too? What Aussie YA novels would you include in your list?
Niamh, xo.
- - -
#LoveOzYABloggers is a fortnightly meme hosted by
#LoveOzYA
, a community-led organisation dedicated to promoting Australian young adult literature. You can keep up to date with all new Aussie YA releases with their
monthly newsletter
, or find out what's happening with
News
and
Events
, or
submit your own
!